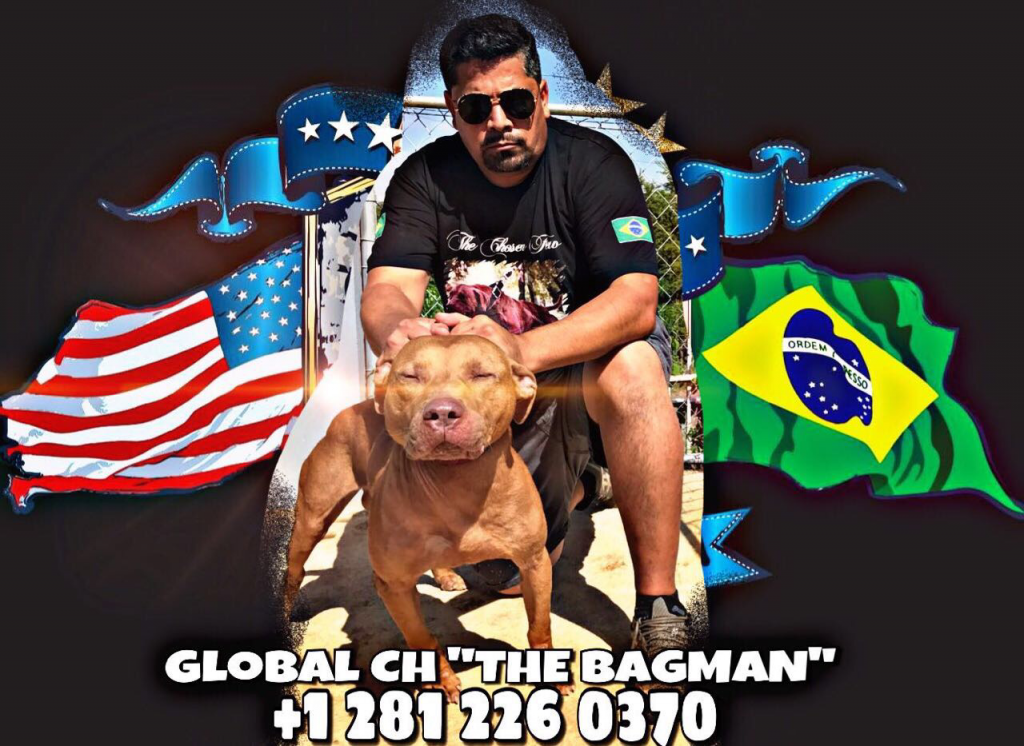 There are a few plan breedings for 2018. Some of them using The Bagman, Awesome Mayday, James Bulger, Awesome Ronin, Wardaddy, BagmanDay and some exiting new breedings using my collection of FROZEN SEMEN.
It will be awesome, You need to get some dogs from us in 2018 , if you want to elevate your level, ONLY THE BEST here.
As of February 2018
~Done breeding # 1~
For those who are wiling to reinvent themselves ! For those who want a brand new start, sell all they got and just start fresh !!
I have two females available from the LADY BUCK breeding.
To get your hands in this special breeding, call me 281-226-0370.

~Done Breeding #2~
This is a breedings I made using a dog from an amazing work done since the late 1990s. when I created the original Clarita , who was an amazing dog. breed to my #8 dogs also breed by me, using my 357 Jr dog , who is a littermate brother to famous Macho Buck. when I breed him to a heavy redboy female I got from Miss Le Blanc in Texas over a decade ago.  Today I took that old work and I put it under an amazing modern creation !! The Bagman !!

~Done breeding #3~
I have one male available, he is buckskin just like CH MECHANIC BUCK,  litermate brother of caterpillar.
All our puppies,  breedings etc as strictly sold as private stock to private parties. Never to breeders, traders, etc.
281-226-0370
The Bagman x Caterpillar, WOW!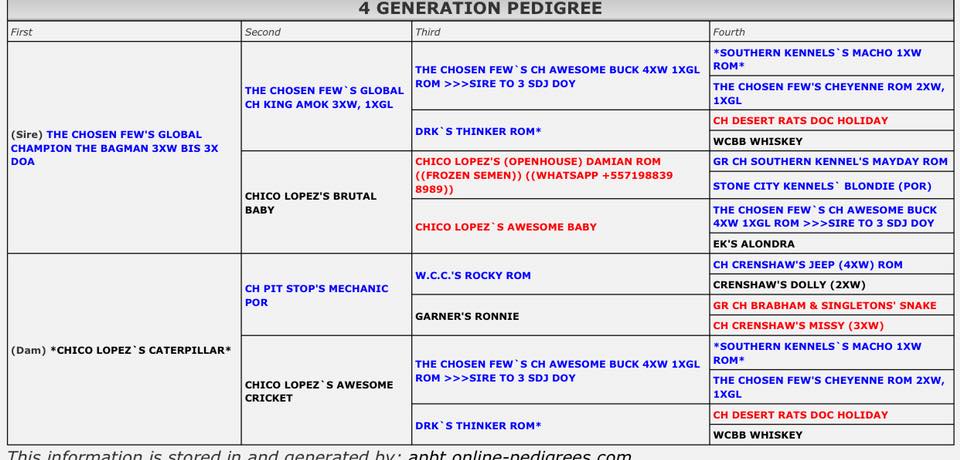 ~Done breeding #4~
THE BAGMAN x Honeyworth
This breeding is done, she will drop in about 4 weeks. Honeyworth is an athletic and powerful female, combination of the best Honeybunch dogs, CH MECHANIC ROM and CH SHORTY ROM frozen semen, choose by me and my years of selection. Complete animal, combine with THE BAGMAN is a explosion of success. I been using frozen semen with success since 2002, my unique knowledge produce Grand Champions and Champions at global level with consistency. We are the only one that achieve success with frozen semen like this!!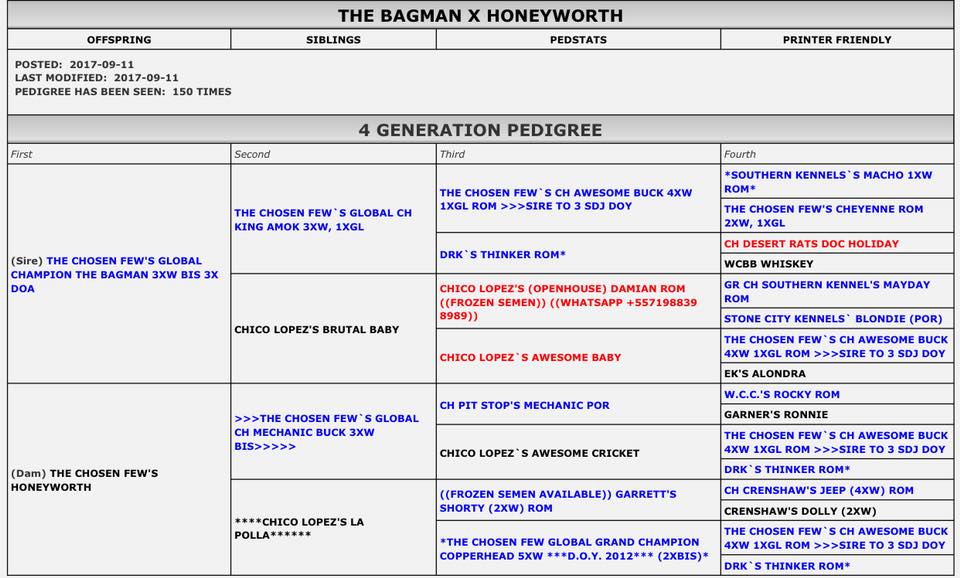 ~Done breeding #5~
The best combination of MAYDAY – BUCK – HONEYBUNCH
Here I present you 20 years of expensive development to crest this one breeding ! Technology $$$$ a lots of knowledge and a lots of testing. The product is here JAMES BULGER x Benghazi, excellence!
Amazing breeding,  call me to put your deposit TODAY +1 281 226 0370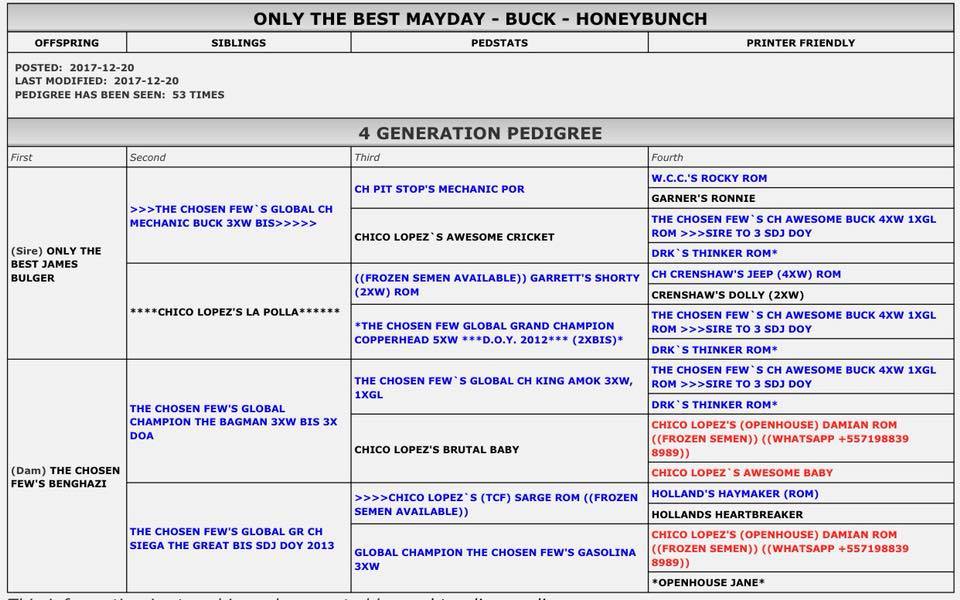 ~Done breeding #6~
Meet Tomahawk, I breed her with my Awesome Mayday and the results are stunning, so I decided to breed her now with THE BAGMAN. With my expertise, I expect this breeding to be a ultimate success!! Only two spots available, call me now to secure yours TODAY 281 226 0370.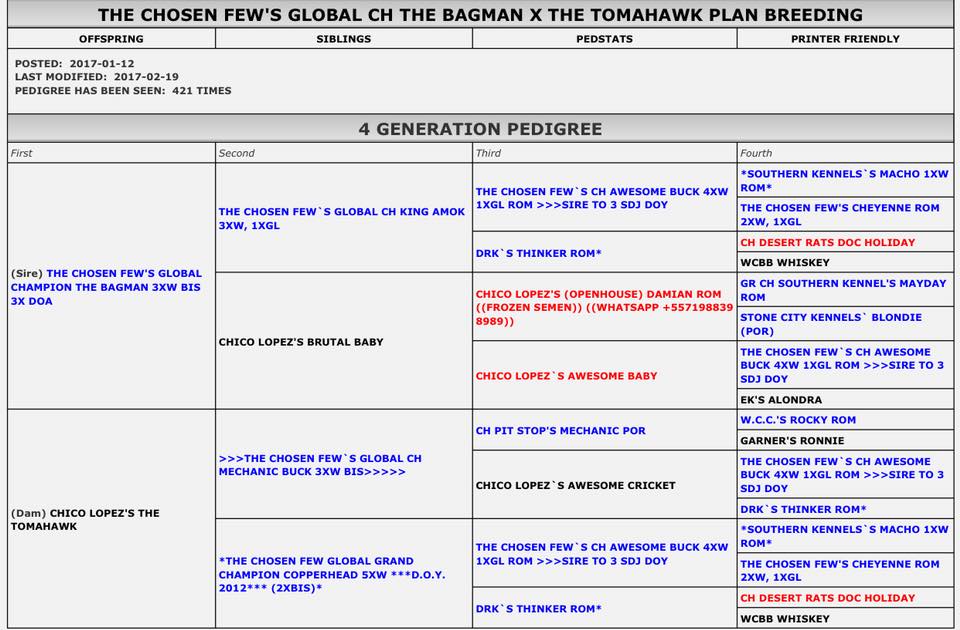 ~Planned breeding  # 1~
This is not for the broke down, in fact I don't deal with broke downs. This is for those who got the loot and are daring and willing to do the contract.
All my pups are sold as private stock, microchipped, DNA, and two tattoos .
As of 4/08/2017  we are still waiting for Jawbreaker to come into heat. Two deposits have been taken.
281-226-0370
ChicoLopezToday@gmail.com

281-226-0370
ChicoLopezToday@gmail.com