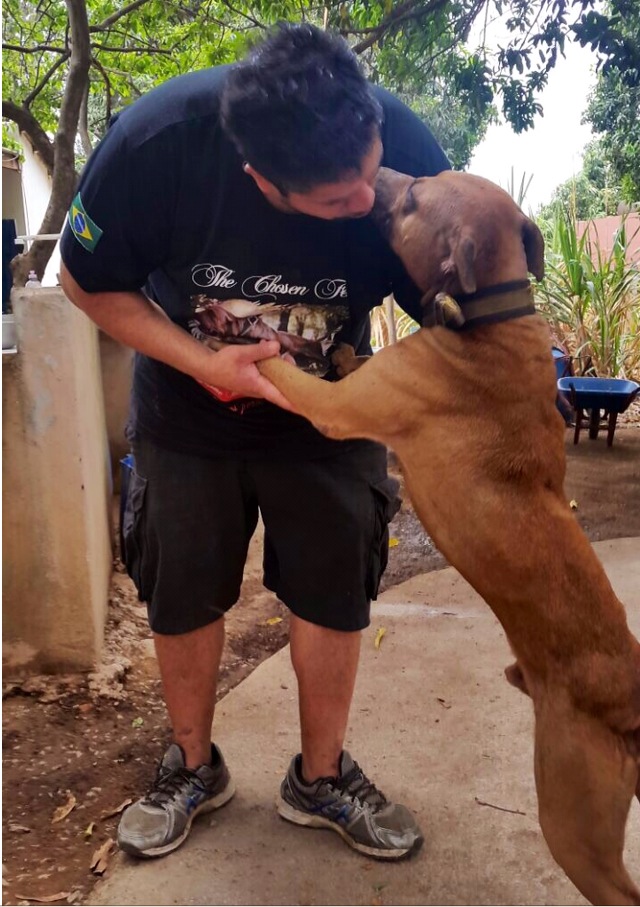 A great sample of The Real American Pit Bull Terrier.  Perfect Conformation, body structure, amazing temperament with humans, NOT a pack animal, and super athletic.   This dogs has been in several articles and in magazines, videos showing great affection and being playful.
His pups are amazing 806-500-5552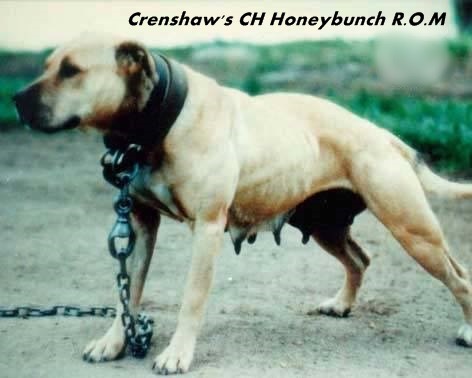 Historical  dog  1980s
"Global Champion Mechanic Buck ROM  is the best HoneyBuck breed dogs TODAY. Because of Awesome Buck ROM influence"
~ Chico Lopez~
THE STORY OF HONEYBUNCH
Ch Crenshaw's Honeybunch R.O.M was born at Maurice Carver's Kennel and was daughter of famed Walling's Bullyson R.O.M and Carver's Amber R.O.M. Both dogs belonged to Maurice Carver. In 1972 James Crenshaw bought Honeybunch as a puppy from Maurice Carver and told him: this puppy has everything to become a fundamental pivot in American Pitbull Terrier selection and she did do justice to this notion. Honeybunch established her reign in dog fighting winning 3 games against the best bitches of that time.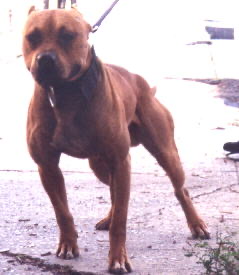 A person who had direct experience of Honeybunch's incredible biting strength is Rex B. Rex the judge of one of her matches. Whilst Irish Jerry was separating the two dogs by unfanging them with a breaking stick Honeybunch locked onto Rex's thumb. The Good old Mountain Man had to replace Rex as a judge. Rex on the other hand, not the type of person to complain suffered in silence with the understanding of why the Hispanics call the thumb " the fat finger".
James Crenshaw coupled Honeybunch 7 times with the best Pitbulls of that era: Finley Ch Bo R.O.M, Crenshaw's Ch Otis R.O.M. Crenshaw's Ch Rascal R.O.M, Gr Ch Adams' Zebo R.O.M, Irish Jerry's Trim Moody R.O.M Wood's Oso Negro R.O.M and Arevalo's J.R R.O.M.
Many champions and grand champions resulted from these poignant crosses from the following calibre: Crenshaw Ch Jeep R.O.M, Crenshaw's Ch Charlie R.O.M, Gr Ch Irish Jerry's Weehunt R.O.M, Gr Ch Brabham & Singletons' Snake, Buchanan's Jessie R.O.M, Creppel's Ch Punk R.O.M, Crenshaw's Ch Crypto R.O.M, Crenshaw's Dolly R.O.M, Crenshaw's Missy R.O.M, Crenshaw's Holly R.O.M, Crenshaw's Sandy R.O.M Crenshaw's Sugar R.O.M, Garrett's Lady Mira R.O.M and Crenshaw's Ch Rascal Junior R.O.M.
Summing up all the matches of Honeybunch's offspring, the figure of 65 fights without any losses comes to light. If one analysizes an American Pitbull Terrier ADBA Pedigree, going back in the generations we will always find one of her offspring.
Her fame was made possible thanks to the strict and selective contribution of James Crenshaw, James Garrett. Maurice Carver, Jack Kelly, Gene Smith, George Wilcox, Mark Stower, Don Mayfield and Mountain Man. Known for her surprising capacity to produce and for her formidable qualities as a fighter, Ch Crenshaw's Honeybunch R.O.M is considered the most influential American Pitbull Terrier bitches of her time.
Mechanic Buck the greatest producer of the Honeybuch family today as of 2022.
Mechanic Buck was a highly respected American Pit Bull Terrier that was bred by Chico Lopez, the father of Athos from Bucha. Mechanic Buck has nothing to do with Floyd, contrary to some misconceptions. This red-colored dog was born in 1995 and was highly regarded for his exceptional physical abilities and temperament.
Mechanic Buck was known for his athleticism and agility, which made him a highly sought-after stud. He possessed the classic traits of the American Pit Bull Terrier breed, including muscular build, powerful jaws, and strong prey drive. He was also noted for his intelligence and obedience, which made him an ideal candidate for various working roles, including hunting, weight pulling, and protection work.
Mechanic Buck's impact on the breed was significant, as he sired many high-quality puppies that went on to excel in various working and sporting competitions. He was also known for his exceptional temperament, which made him an ideal family dog and companion.
Today, Mechanic Buck remains a highly respected and influential figure in the American Pit Bull Terrier community. His legacy serves as a reminder of the breed's rich history and its potential as a loyal and loving companion when raised and trained properly.
Brasil 2015 after a long day of work, Thais is checking messages. Mechanic Buck ROM got loose and run right to her arms. You will see the deep connection among them.  If you own a grand son of his , now you know why they are some nice and loving.
Mechanic Buck AKA Britador, AKA The Butchers knife love to spend time with us.  He spends the after noon using the bathroom and in the open skies on a chain as the other dogs.  Contrary to the opinion of common so called experts, the time on the chains did not affect the mood of our dogs. In the contrary , makes them healthier and released the extra energy.
This is the "Real American Pit Bull Terrier" The temperament is love and high controlled energy.  This is possible because, great selection.
BUY THE BEST COLLAR TODAY