THE MAYDAY BLONDIE DOGS.
Those were different times; this writing was only for historical purposes.
I strongly recommend you love your dogs and DO NOT BREED DOGS. THE STORY WAS OVER 20 YEARS AGO.
Texas early 2000s.
The gamedogs from Mayday bloodlines still made lots of noise because of their qualities and superiority during the 1990s.
THE MAYDAY BLONDIE DOGS.
Correct, those dogs were creating a hard buzz. These were the promises of the land, and Macho 1xw had already produced Awesome Buck.
Awesome Buck was super secret, not open for stud and going against the bears, the lions, and dragons, the opposite of what was later macho buck's carrier.
Macho Buck's mother was Macha, who spent some time in my yard. She was an amazing-looking female. Macha got bred to a dog with impressive pedigrees of Champion and ROM dogs of the Williams Gaston Bloodlines, Champion 357.
I learned the details about his sniper carrier with time, and I was disappointed. In any event, breeding had much anticipation as they were using VA Paid right to breed to 357.
I visited the litter the day the puppies were born, as I was promised a puppy from that litter, something that did not come. I had to take care of Macha for months, which was part of the deal, yet not all men have a word. One of those guys called me to see the puppies, 10 of them. Once they named their pick of the litter Macho Buck, I was upset as it was so close to AWESOME BUCK. They sound similar, and as I predicted, people said MB was AB. With time both dogs made their carriers; AB took the hard road, MB the easy snapper road, off the chain and into blues. Yet with all honesty, MB was not a bad dog; he was in the hands of terrible pretenders. The fact is Macho 1xw, who they owned, died frozen, left to die; Macha, Macho Buck's mother, died while the puppies were alive; she got cooked hot sun; even Hanna left to die after her deal with no preparation for afterward.
If I tell you, those same smacks are assumed to be dogmen by a small group of morons. Macho Buck himself got involved in multiple kennel accidents. When he came to me, he did not have much hair left on his body. In the beginning, I did not want to help him at all, Yet my RIP friend Gino Molinari convinced me that it would be a show of greatness after all the veterinarians failed. He said I know you can fix him, plus they want you to keep him. I fixed him, and later I made a stupid move. I gave him back to them. I was tired of all the people they owed studs, and I was breeding dogs for them.
I felt the swamp was coming to me too close. I should have sent them to hell.
 On the other hand, my son was right helping macho buck was a betrayal to the real dog Awesome Buck.
I gave those turkeys a fresh start. They collected semen and created some bs dogs with weaker bloodline samples, weaker than MB. The exact process snipper carrier on their mutts, lots of hype, and cheap marketing for the idiot doggers of the swamp. With time Macho Buck was bred 100s of times and produced good lucking dogs in many cases, yet cold, scared dogs, and many other defects. Since they sold to mostly dog fighters, kennels, breeders, and the swamp, the dogs peddled hard, and the value dropped tremendously; any loser, drug dealer sells macho buck puppies mixed with all kinds of ruined bloodlines.
Macho Buck never produced a single grand champion or Dogs of the year, not a single flagship dog other than Macho Jr jr, aka Demolisher.
 By 2023, machobuck is a famous bloodline among rookies and low-level dog fighters in America, India, and Europe. It was all for profits and always about the money and pretending.
Macho Buck, as Mayday Blondie's dog, could have been more., sadly just like Macho, Macha, and Hanna, he was in the wrong hands. I would recommend him over any bully, black dog, and most dogs out there; after all, being the little cousin of the GREAT AWESOME BUCK, he had weight.
I will develop more over these topics as The Mayday Blondie dogs of Southern Kennels positively impacted the actual ( REAL)breed.
2023 times have changed, and people should love their dogs and have them as pets. Most people, if not 100%, should not be breeding as they have no qualifications of excellence to produce great dogs. If you own a Mayday x Blondie dog or a Macho Buck, I recommend you to care for them and buy them a great Warrior Collar from the GOAT of all mayday Blondie dogs. My collar will make your dog look great and add value to its health of the dog.
THE BEST DOG COLLAR FOR STRONG DOGS
https://www.therealpitbull.com/pitbull-collarsfor-big-dogs/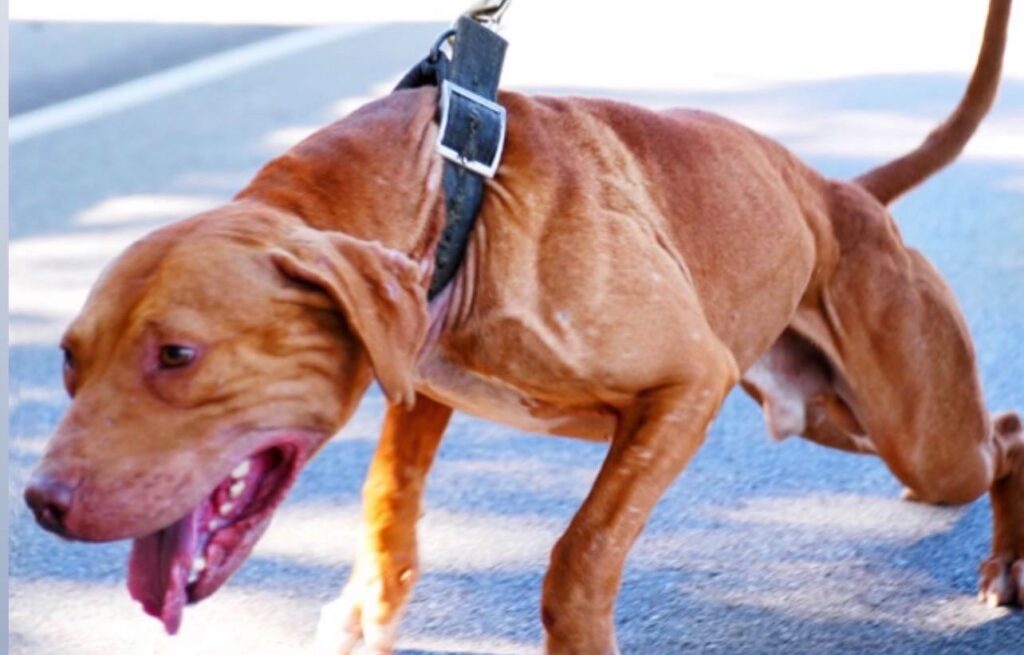 AWESOME BUCK  VS  MACHO BUCK
Seen through the eyes of Mr. Clean
I had the opportunity to see Awesome Buck a handful of times out side the box, and he was truly AWESOME.. The first time I saw Awesome Buck was at an AADR show outside of San Antonio, TX. He was screaming in the show ring displaying his dominance and confidence. This amazing specimen had the confirmation to allow him to compete in the fast lane. Awesome buck was later awarded best in show by B.Bailey that day.
Months had pasted and feud was brewing between the Awesome Buck and Macho Buck camp. Both were claiming to have the best at 51 lbs. After much debating back and forth they were never hooked. Except for one raining day in the South East Texas area at an AADR weight pull. The event was being held in J.W. backyard. However, many spectators couldn't weather the storm and left due to the rain conditions. The moment had finally come to see Awesome Buck and Macho Buck compete on the weight pull track. They both met at the scale Awesome Buck was clearly the smaller dog which it came in at 51, Macho Buck the bigger dog came in at 55 pounds and then on the track.
Both dogs were pulling an unreal amount of weight In the flash flood storm conditions. It was an amazing display the two cousins were back to back. Awesome Buck was the craizer of the two.
It's like the dogs were talking to each other as they were screaming back and forth, pulling and stretching their bodies across the weight pull track. Awesome Buck was being couched by a Little Boy Chico Junior , he was using an umbrella as a toy. Macho Buck was being couched by Dtwon and Atown, on the last pulls Macho Buck got a bit distracted , and they used instead of the toy, they switch to KFC fried Chicken. On the regular rules that was a disqualifier , yet this was a fun show, and what a fun show that was. All the expectators got a legal displayed of two of the best reknown dogs of their era. There were two big identical trophies. One read Most weight pull, and The other one read Most weight pull per body weight.
Machobuck ended up winning the most weight pull by one brick, Awesome Buck got Most weight pulled by body weight. Awesome Buck let the track with blood on his paws , screaming. He had pulled so hard that he peeled his paws. Both astonishing looking animal. Above the pack.
Anyways, the memory that I remise often about Awesome Buck are the characteristics he displayed. Something we all look in life, that bulldog, that Rudy, that Rocky Balboa, never giving up, screaming and demanding more! In closing, Theodore Roosevelt once said "The credit belongs to the man who is actually in the arena; whose face is marred by sweat and blood; who strives valiantly; who errs and comes short again and again because there is no effort without error and shortcoming; who knows the greats enthusiasms, the great devotion, spend himself on a worthy cause; who at best knows in the end the triumph…….. never tasted victory or defeat. "
Mr. Clean
Written June 2012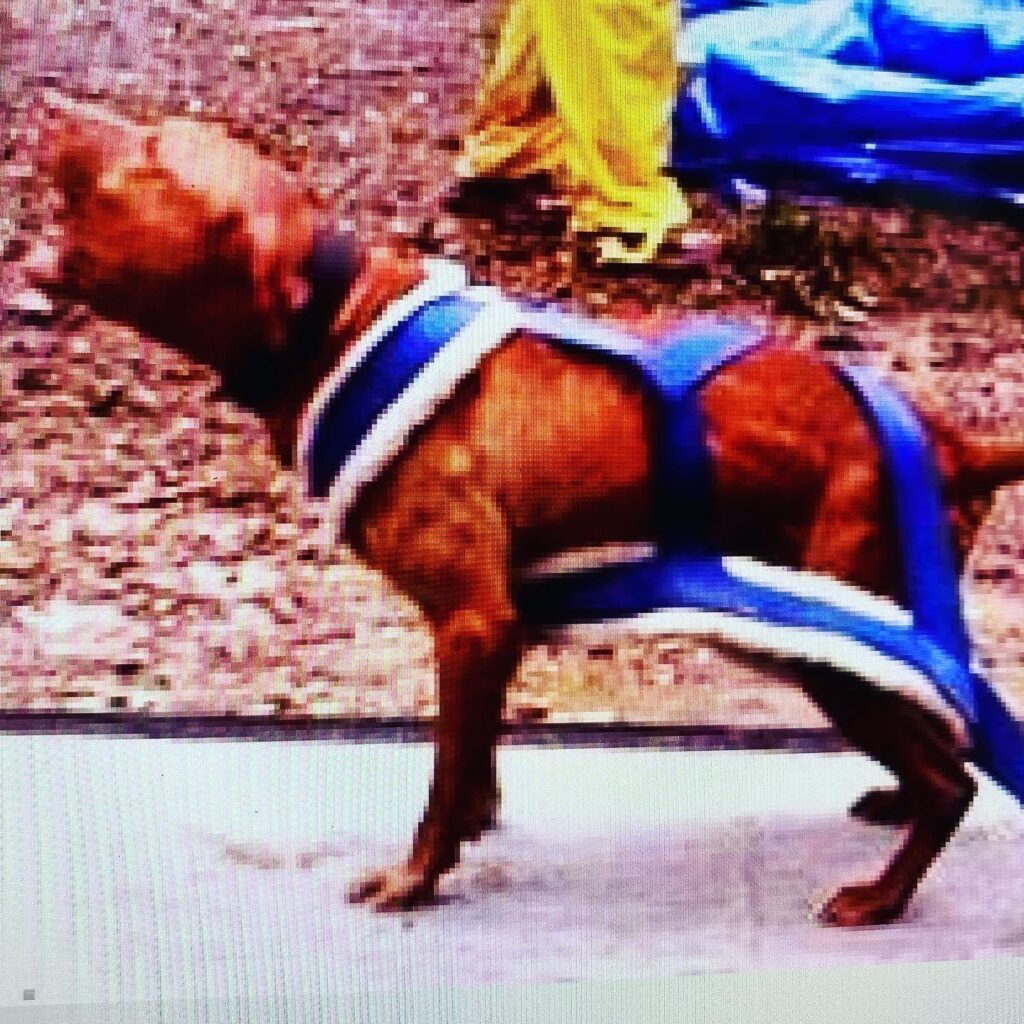 AWESOME BUCK Screaming to win, pilled off his paws. blood  on the carpet and screaming , no food for bait all loved awesome buck.
for his puppies 
Puppies
All copywrites belong to Chico Lopez.