Athos the Ukrainian War Hero
Pitbull War Hero
Pitbull war Hero, Athis is the most Amazing dog story of courage you may ever read.
The Video has the true story of Athos from Bucha.  The one story you will want your children to learn from.  Athos a real American Pitbull breed in Brasil, born in Ukraine protect his home with his life.  The dog that never gave up.
Below is the video of when The Ukrainian Army found Athos protecting his home after facing the Russians; he was soon to be dead.  Athos is alive today and was awarded the Champion of Hope by WBC boxing.  Those is living a great life in the same living room where the original statue of gr ch Mayday ROM is located.
We hope the war in Ukraine is over soon so he can go back to Ukraine to be with the Kovalchuck children.  For those interested in more information or puppies from him, call 806-500-5552
These are APBT and Pitbull News, presented by those who love the real breed.
#oldfamilyrednose
Athos from Bucha: The Brave Pit Bull War Hero
Athos from Bucha is a name that is synonymous with courage and bravery. This incredible pit bull has made a name for himself as a war hero and has become the Ambassador of Courage for the breed.
Athos was born in Bucha, a small town in Ukraine, where he was raised and trained by Chico Lopez, a renowned breeder of American Pit Bull Terriers. Chico Lopez is famous for his Golden Vein bloodline, which is known for producing some of the strongest and most courageous pit bulls in the world.
Athos was trained by Chico Lopez to be a loyal and obedient dog. He was taught to follow commands and to always put his master's safety first. Athos was also trained to be physically strong and agile, with a powerful bite and a fearless spirit.
In 2014, when the conflict broke out in Ukraine, Athos was drafted into the army as a service dog. His task was to protect his handlers and to detect explosives. Athos quickly proved himself to be an asset to the army, as he fearlessly led the way through dangerous territory, sniffing out hidden bombs and mines.
During his time in the army, Athos was wounded in action several times. He was hit by shrapnel and suffered injuries to his legs and face. Despite his injuries, Athos refused to back down and continued to serve his country with bravery and dedication.
Athos' bravery and loyalty did not go unnoticed. He became a national hero in Ukraine, and his story inspired people around the world. Athos was honored with many awards and decorations, including the Medal for Courage, the Order of Merit, and the title of Hero of Ukraine.
Today, Athos from Bucha is retired from military service and lives with Chico Lopez in the United States. He continues to be a symbol of courage and bravery for the American Pit Bull Terrier breed, and is often called upon to represent the breed in public events.
In conclusion, Athos from Bucha is a true hero and a shining example of the courage and loyalty of the American Pit Bull Terrier breed. His story is a testament to the amazing capabilities of these dogs when they are trained and treated with respect and love. It is important for us to honor and remember the bravery of dogs like Athos, who have risked their lives to protect and serve us.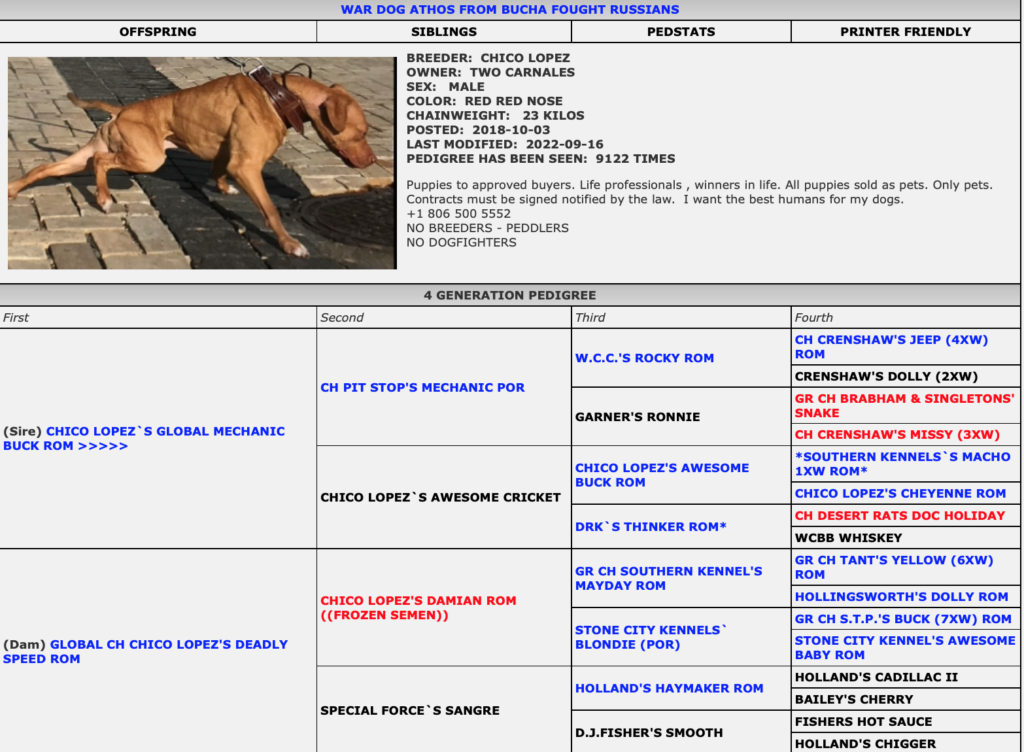 The Walk of the Grand Champion
Mykola Kovalchuk gave ATHOS  a great life; here in this picture, we have Athos in the city of Busha, Looking outstanding at five years old. Kovalchuck is a respected owner of LI Group Attorneys at law. He is also the president of the World Boxing Consul in Ukraine. A father of 4 exceptional children we love as our kids—a great ambassador of the breed around the world. Soon, we will add a gallery of Athos and his Kids!
Athos, The war hero who faced the Russian soldiers and never gave up, is not only a sample of courage yet is also one in a billion.  THE GOLDEN VEIN will preserve his genetic composition. The real pitbull is alive in this Brand and bloodline.