Athos from Ukraine
Here The Kovalchuck in Bucha loving life and Athose before the Russians ibvated Bucha. A happy family with their super dog. The Children truly love Athos. As you can see on the Next Video the love and connection of Athos with his masters, and friends.  Mykola loves him so much. The meeting In Acapulco Mexico was very Emotional. Our friendship have grown more and more we are family. More updates coming as Athos and Bridger Walker meet in Acapulco !! Great news on the way guys !
Athos, a real American Pit Bull Terrier, gained international recognition for his heroic actions during the conflict in Ukraine. During the Russian invasion of the city of Bucha, Athos stood his ground and protected his home from enemy soldiers. He barked and growled at them, refusing to let them enter the house. Thanks to his bravery, Athos managed to prevent the soldiers from entering the house and causing harm to his family.
After the incident, the Ukrainian army rescued Athos and took him to their base for safety. News of Athos' heroic actions soon spread across the globe, and many people praised him for his courage and loyalty.
Chico Lopez, a well-known breeder of American Pit Bull Terriers, heard about Athos' story and decided to adopt him. Despite the ongoing conflict in Ukraine, Chico made the journey to Kiev to bring Athos back to his home in the United States.
Athos quickly became a beloved member of Chico's family, and he continued to capture the hearts of people worldwide with his remarkable story of bravery and loyalty. He was hailed as a symbol of the American Pit Bull Terrier's strength, intelligence, and loyalty.
However, Athos' story also shed light on the harsh realities of the war and the impact it had on both humans and animals. Many dogs were abandoned and left to fend for themselves during the conflict, and their fate remains unknown.
Athos' heroic actions and his adoption by Chico Lopez also raised awareness about the importance of responsible breeding and ownership of American Pit Bull Terriers. Despite their reputation as aggressive dogs, Athos' story showed that they can be loyal and protective companions when bred and trained correctly.
In conclusion, Athos' story is a testament to the courage and loyalty of American Pit Bull Terriers. Despite the challenges and dangers they face, they continue to protect their families and homes with unwavering bravery. Chico Lopez's decision to adopt Athos and bring him to safety is an inspiring example of compassion and kindness, and his love for the breed is evident in his dedication to responsible breeding and ownership. Athos will always be remembered as a true hero and the ambassador of courage for the American Pit Bull Terrier community.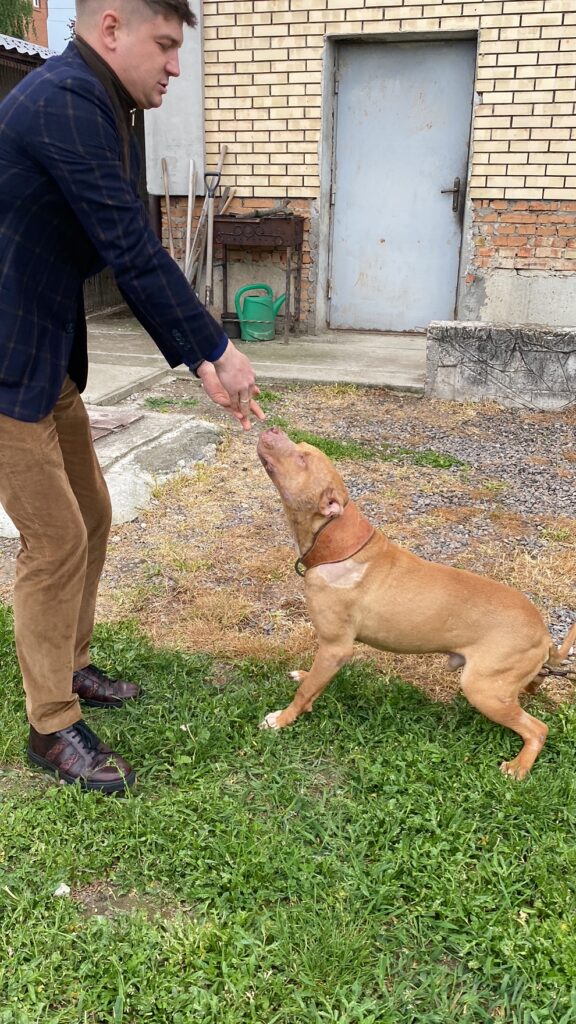 Mykola Kovalchuck and Athos
Athos was a real-life Pitbull war hero from Ukraine.
He protected his home in the city of Bucha from Russian soldiers during the conflict in Ukraine.
Athos was rescued by the Ukrainian army and later taken in by Chico Lopez, a renowned Pitbull breeder and trainer.
Athos' bravery and loyalty inspired many people in Ukraine and beyond.
He was trained to be a guard dog, but his natural protective instincts were what truly made him a hero.
Athos became a symbol of resilience and courage during the turbulent times in Ukraine.
He was featured in various news outlets and documentaries, sharing his incredible story with the world.
Athos proved that Pitbulls are not just aggressive and dangerous dogs, but can also be loyal and protective companions.
He showed how important it is to properly train and socialize dogs to become good members of society.
Athos' legacy lives on as a reminder of the bravery and heroism of dogs in times of crisis.