THE BLOODLINE AWESOME BUCK ROM DOGS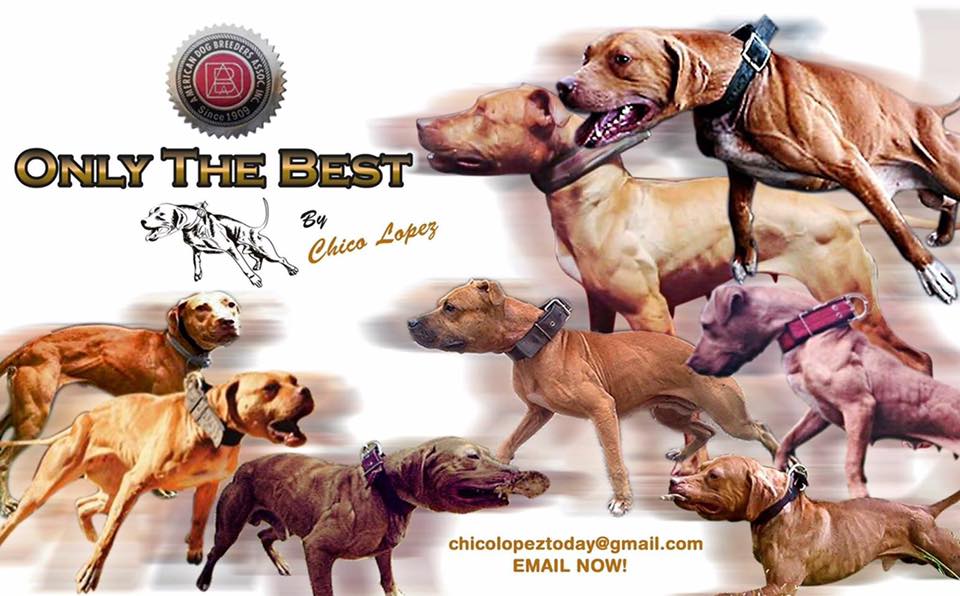 THE BLOODLINE 
What is your bloodline?   Is a frequent question among the 1000s of people that contact me about my puppies.
What we are looking for is the qualities, trails, and greatness of a specific dog.  So where do we find this qualities ?  They normally come from a group of family members that is called "bloodline". Each bloodline has some qualities at some LEVELS , that makes them competitive and desirable.
Some people want a dog with special qualities.  Then one discover that there are some trails with in some families of dogs  that are specific to a dog in particular, from where these special qualities are from and that is often called a bloodline. Defining the quality or trails of a dog, that soon a family is build around him.
When I stated in the breed I wanted THE BEST and ONLY THE BEST. This was a huge challenge, as there were many good dogs and some great with in different bloodlines.  However no bloodline was extremely consistent than the next top bloodline. I did not want one good dog among all the good ones . I wanted the best of the best. Soon I had a clear Idea of what I wanted , the trails and all. Those trails and qualities needed to be the best dogs in the breed, best dogs in the world.
It is the Champion Awesome Buck ROM bloodline. It has taken me 22 years to develop this bloodline, which is unique in many ways.
Most bloodlines have the name of a particular dog or a dogman.  You can also call it Chico Lopez dogs.  Yet I rather call it AWESOME BUCK DOGS.
When building a bloodline or when the phenomenon of a bloodline build happens, there are 100s or 1000s diferent people working on it. It starts with the breeder of the dog himself.  Them all the people evolve in the development are the men and women using the offspring of this particular dog. Those people will use the dogs from this dog, campaign and get merits or something that will add value to the bloodline. After some time this will come to be recognize as a particular bloodline. The qualities of the main dog, will represent this particular bloodline. For example Champion Red Boy of the 1980s. He was known to be very deep game, softer mouth, hight ability.  His kids or offspring turned to be the same, and when breed to other bloodlines, it was expected that his bloodline would add gameness and ability. Thousands of breeders and people helped the development of the redly line of dogs.
In the case of AWESOME BUCK, there was just me and less than a hand full of friends and associates that helped me.  This was not the bloodline of the masses.
These were my exclusive dogs. I have had just about every bloodline one can think off. I started buy investing heavy on the best dogs from the best dolmen and breeders I could find when I stated. after 2 years of working with all the dogs from all the different lines it was clear to me how I was going to develop my own bloodline. The characteristics that I wanted and needed to be the best.
It has been over 18 years of hard work and the most fascinating dolmen journey ever on the breed American Pit Bull Terrier , to develop THE AWESOME BUCK DOGS.
It was expensive , and full of obstacles, hardships, and we stop strong with a strong vision on excellence , measure on top class results, merits.
This bloodline is the most merited APBT bloodline at a global level in the past 15 years. More Grand Champions, Champions, ROM dogs at a global level. It has been exclusive to us. We did not have open sales of our pups to the market. In fact we advertised on magazine our dogs, with a NON FOR SALE. We just let the world know that, these dogs did exist.
In 2016 I made the decision to breed and sell puppies to those who wanted ONLY THE BEST.  A great dog for those men that wanted to have the real American Pit Bull Terrier, at the highest quality posible. We can sell a puppy to a smart, honest person that can agree with the terms of never selling, never trading, never lending, all on a writer contract.
We produce dogs that define what is the real American Pit Bull Terrier, THE DOGS OF VELVET AND STEEL, as our friend Bob Steven would say.
Our dogs are athletic, outgoing, friendly with humans, super loving and great family dogs, not pack dogs or animal friendly.
These are not the dogs for everyone, specially for snowflakes. Our dogs are for people with a strong personality, honor, courageous character, and people who value traditions, heritage.
What dogs are made under AWESOME BUCK DOGS ?
Global Grand Champion Siega The Great
Global Grand Champion Chilindrina
Global Grand Champion Copperhead
Global Grand Champion Sarabell
Global Champion Gasolina
Global Champion Copperday
Global Champion King Amok
Global Champion The Bagman
The bases that I selected to build my dogs are:
Carefully picked individuals, here I made magic.
Cheyenne ROM: Main dog , sellected from over 54 dogs.
Macho 1xw ROM: Main dog hand picked from all sons of Mayday.
Honeybunch ROM ( super screened ): Ch Mechanic , Ch Shorty, Stonewall. These bloodlines here are dangerous to work with. Doing it the way I did Using Ch Awesome Buck, this makes magic overtime. Key sparker and creator AWESOME BUCK.
RedBoy ( Sarge POR) : A lots of redly dogs are good, few better, bonelike Sarge POR.
TO BE CONTINUE >>>>> ChicoLopezToday@gmail.com
The Awesome Buck dogs are something made like with the best stuff on earth.
What is your bloodline? Is a frequent question among the 1000s of people that contact me about my puppies.