Female
34 pounds
The purest of the Real American Pit Bull Terrier
Bred by Chico Lopez
>>>>THE TOMAHAWK <<<
100% one of the best Chico Lopez breedings.  I planned this somewhere around summer of 2002. Dreamed that this would happen in the future.  As the idea stated shipping , I was able to recognized the idea of Nephew back to his aunt, both tittle dogs. What I did not know is that they would be this great. Global dogs was still not in my thoughts.
She is a very out going dog, with a friendly great personality.  She is a perfect convention of the best selection of my Honeybunch dogs and my Awesome Buck breedings.
On the top and bottom she has the magical breeding of Champion Awesome Buck ROM x Thinker ROM. This combined with Champion Mechanic Rom , mad it superb.
Champion Mechanic ROM was always on of my favorite dogs in the late 1996.  His qualities were well known on those days as being one of the top dogs in the country.  His pedigree was very very special being 50% Honeybunch and being a grand son of Jeep and  direct son of Ronnie ROM.  What most people don't  understand is that, Ronnie and Stonewall were litermates. Both out of some very respected dogmen of those times in the 1980`s and out of Gr ch Slate and Ch Missy, both out of Ch Honeybunch.  I envision to put these bothers together some how. This was clear to me the opportunity. Thinker ROM, bred by Dale Robertson was a Stonewall based female.  The blood was at a road block as Dale Robertson had told me. Yet I knew that I would make magic with Awesome Buck and bringing Ronnie up to the plate.   Champion Awesome Buck is the catalytic effect maker here, and is till know the magic behind all my dogs.  These combinations I invented using the friendly loving monster Global Champion Mechanic Buck BIS are the future !!  Great news will continue to come out of my laboratory !!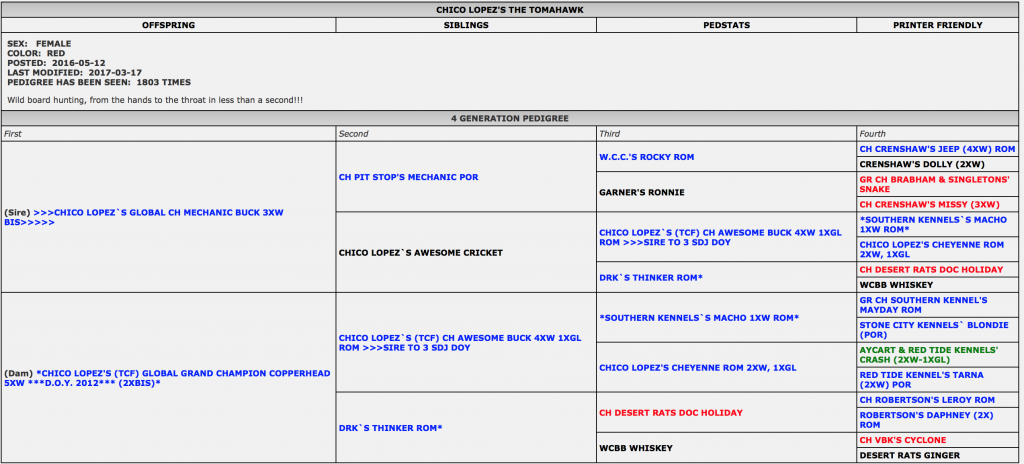 As a breeder , I always look at every detail to make that image of greatness in my head better and better. The Real American Pit Bull Terrier at this level is mostly unknown to society.  What most people call Pitbulls are not near in any way to this carefully selected and shaped dogs.  Tomahawk is an impressive dog of a great capacity. I originally called her La Sarita as I love the race car La Sarita , a drag racing Toyota Starlet with a Rotary engine , with a super explosive take off.  Since a puppy she was just like that calm and easy, and when she really wanted something , she would go 1000%. With time , she became more like a missile , flying at cross with explosive violence on her games, of  Tug A war, or chasing a Capivara down the pond.  No hog can run faster than her. She is like a machine. At home she is so nice and sweet , with kids and strangers.  I bred her to Awesome Mayday and made some amazing puppies that are around the world.   I also bred her to Global Champion The Bagman BIS, these made pups as well that are top shelf material. The genetics on both litters can change entire countries for the better. Yet I don`t sell to breeders.  On of these pups went to a friend who I respect as a man,  as a father , World Champion Terence BUD Crawford #TerenceBUDCrawford.