The Breed Standard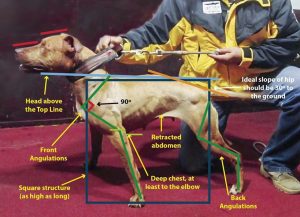 There is only one real American Pit Bull Terrier. There are many interpretations, or so call representations, or image of the real deal, yet there is only one real deal.
The conformation used by some clubs, registries around the world comes from dogs created by real dogmen, in most cases.  It is known that desk people have little or none field experience on the breed. Reading books, magazines, or hearing stories is all great, yet does not give a pet owner or a person the real experience needed to know deeply the working conformation of a real APBT.  I seen this in judges, and in show winners , even some that are famous.  There are many dimensions of the breed, where even dogmen can't understand the functionality of the body structure.  I seen judges that would pick up a greyhound looking dog because that is how they  interpret the conformation standard given by a club or registry. The ADBA uses a conformation standard that was written by real dogmen; Mr. Ralph Greenwood and Del Brandstrom. It is the last man who had string breed vision and a lots of book knowledge as well. He draw the standard by hand himself using a real working APBT to do so.  There are many clubs that use this same standard written by him.  Yet very few judges have the additional field experience needed to do a good job, and even fewer can do a great job.  Culture communities is the biggest challenge among clubs from different registries. The groupies of show people who later become judges and favors among small groups is  a huge human cultural problem.  This situation it developed all by itself in different areas around the world .  This favor getting and favor paying under the table systems hurts the normal show person.  The dogs used on conformation many of them are very close to the real American Pit Bull Terrier and many look great . I always encourage people to show their dogs. I wish all my buyers would participate on conformation shows. Since my dogs are the real APBT and many judges don't know one even if it was on their lap, I don't see my dogs placing in many shows, yet is great to support the breed and do positive activities for the breed. In the case you may run into a good or great  judge as it has happen many times, you will have a lots of fun.
Mr. Del Brandstrom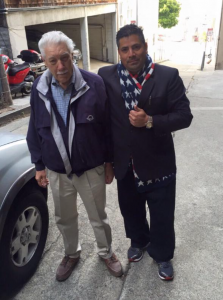 The Man that gave the breed so much ! The man that created the breed standard that most registries use. It was actually created for his dog partner and close friend Mr. Ralph Greewood.   Here Del Brandstrom and Chico Lopez, on a visit to his home where I learn a lot about the breed and the real dogmen of his times. Privilege information that I will share on my books ( When I get to write them )
We all need to be forever thankful to the great Mr. Del Brandstrom.
One great memory of this great gentleman is when he called me " Chico you are the guarding of standard " ! I treasure those words.  Therefor , I do work sometimes as a conformation judge. For some time I did helped the ADBA judging for them, yet as times have changed and they feel pressure from snowflakes , we went as friends. I still help the them with clubs and as an Authority in the breed people asked me a lot about them and I always put a good word.  As a registry that is the one that has the heritage  of the old dogmen registering their dogs with them, to me that is their biggest asset. When men like those and men like me trust them.
I dont do judging for the ADBA any longer. Yet the man that created the ADBA breed standard is Del Brandstrom. We are good friends, and he calls me  " The Guardian of The Standard " A very deep topic that is like nails and fingers to the very survival of the breed.
One picture is worth 1000 words
" PRICELESS WORDS from the source of the breed standard  "
~Mr. Ralph Greewood~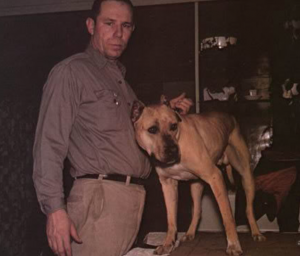 A great dogman in his own right and one that we all owe something today. He purchased the main registry of the breed the ADBA many years ago. He has passed yet his influence on the breed is presence today.  I hope his family who runs the ADBA always stay loyal to the real dogmen and the real apbt.  The people I know at the ADBA respect the real APBT and the men who build the and created the breed, I hope stay like that.
Siega The Great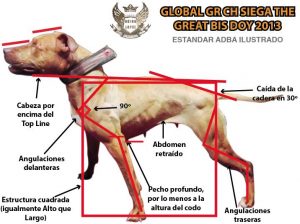 This is a sample of greatness at every level. She is a perfect dogs , perfect pet, great with kids  and a Global Grand Champion Dog of the year !
as I mention before the man that created the APBT standard , at lease the best APBT standard is Mr. Del Brandstrom. One day I send him pictures of several conformation champions, and several working dog champions. I asked him to pick up the best conformed dogs. He picked a picture of Big Apple & Aycart`s Grand Champion Haunch as being a very nice dog, and his favorite pick which he called the perfect conformation dogs was no other than Siega The Great. Wow without him knowing he was getting two dogs that are the real mc coy ! That happens when great dogs are being checked by the man who created the conformation standard.
Everything comes in levels on this world. Experiences somethings is confused with tenure on the job. I remember a sample by a mentor where he said , just cause you have 30 years doing something do not really mean you have 30 years of experience, as many times is really one year of experience and 29 years of repetition. Most people are afraid to write this things even if they though about them, just cause they fear peer rejection, or not being policy correct. I am far away from being a snowflake , so I will always write things as they are.
Exciting things are coming here ! So you can learn about this too !!
the road to success is always under construction.
working on finishing this page.
Stay tune and I see you soon.
For the best puppies on earth,
281-226-0370